Aquatrine delivers one of the largest water and wastewater Public Finance Initiatives (PFI) contracts in Europe, which is for a term of 25-years with the MOD. Since 2003 the provision of water and wastewater services has been managed by three service providers; Severn Trent Services, Ancala Water Services and Veolia Water Nevis.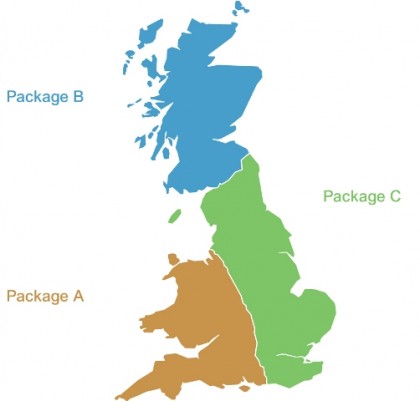 Key:
Package A = Ancala Water Services
Package B = Veolia Water Nevis
Package C = Severn Trent Services
Key User Requirements (KUR's)
Aquatrine outlined five KUR's which underpin the delivery of services to our customers across the estate. These are:
Provide an uninterrupted supply of wholesome potable water, in accordance with the Water Supply (Quality) Regulations 2000, to all points of water supply.
Supply water for fire fighting in accordance with the Crown Fire Standards, issued by the Property Advisers to the Civil Estate (PACE).
Collect and dispose of sewage and surface water safely and hygienically from all points of sewage and surface water receipt.
Operate a dedicated 24 hour helpline for MOD staff.
Ensure that there is no flooding from surface water or combined surface water and sewage systems caused by a failure to provide the services.
Aquatrine adds value by providing a high quality end-to-end service including leakage detection, payment management schemes and sustainability initiatives.
Download the Aquatrine Overview Leaflet here