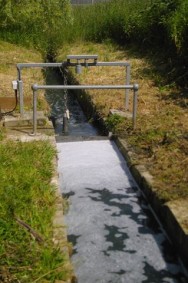 Each of the Aquatrine Packages has its own unique challenges for the three partners, however, when a specific challenge or opportunity is identified which could benefit from a joint approach and collaborative working, then an ASA working group is formed to analyse the situation, identify the most appropriate response and implement solutions/practices which maximise the benefit for all parties.
Three examples of where the partners have or are working together are shown below.
Leakage Management
Leakage was a major challenge across the whole estate and one of several areas of focus from the outset of the ASA. Each Aquatrine Service Provider continually monitors water consumption via audits, meters and water usage alarms to detect leakages across the estate.  Aquatrine partners work together to identify water conservation achievements and identify further sites (using site consumption audits) in each area with potential for win-win benefits from water conservation activities.
Private Drains and Sewers
On 1st October 2011 the majority of private sewers and lateral drains in England and Wales transferred into public ownership, meaning they are now the responsibility of the relevant Water Company. This legislation applied to the MOD estate in these two Packages, meaning some sewerage assets both within and outside of the MOD boundary became the responsibility of the relevant Water Company from 1st October 2011. The majority of assets are still managed by the Aquatrine service providers, and the ASA working group worked closely with the ten water Companies in England and Wales to identify which assets were affected, ensuring the handover took place without the property residents perceiving any break in service.  This was the biggest change in sewer ownership since 1989 and the ASA continue to monitor the effectiveness of the Statutory Water Companies, now providing services to some parts of the estate.
Water Competition
ASA partners work together to review upcoming legislation & its potential impact on Aquatrine arrangements Following the release of the Water White Paper by the government on the future of the Water Industry in December 2011, future joint activities in relation to Water Competition and Resource Protection & Management have the potential to be developed based on its content.  The ASA is working together to review the emerging markets and identify any opportunities and risks for Aquatrine.