Aquatrine Challenge – WaterAid Raft Race 2014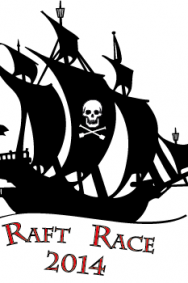 On Saturday 06 September 2014 Aquatrine Teams from Severn Trent Services and Kelda Water Services once again took part in the WaterAid Raft Race at Carsington Water, near Ashbourne, to raise money for charity.
On the day Carsington Reservoir was turned into a pirate paradise with barbecue and activities for spectating families, friends and colleagues who were there to support the three Aquatrine teams.
Results from the day have been published in the Autumn issue of Aquatrine News.
The Raft Race is part of Aquatrine Challenge – an annual fundraising event for all four partnering organisations (DIO, Severn Trent Services, Veolia Water Nevis and Kelda Water Services) which provides an opportunity for staff from all organisations to participate and raise money for a nominated charity.
All funds from the day and sponsorship will be going to WaterAid, an organisation that helps communities in the developing world to access safe water and sanitation, transforming millions of people's lives every year.
If you have any queries about the event please contact renata.keating@stservices.com.